Our range of complete systems configured according to the client's need is able to suit for any utilization:
DC power supply for unitary charge

DC power for unitary charge is an advantageous solution, for example for the supply of medicines and vaccines in rural areas.
DC power supply for small usage

Lighting with direct current system, especially in rural areas with the kit "Solar Home System" ranging from 10Wc to 100Wc, offers a good quality/cost solution. When it is well dimensioned, this kit enables to supply current for radio and TV sets.
AC power supply for a higher energy need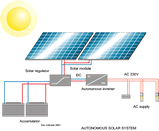 For a higher need with an AC power supply, the autonomous solar power supply offers an ideal solution with a total independent utilization against the public electric network.
AC power supply with a considerable energy availability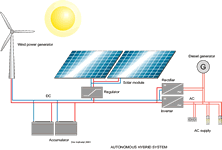 For higher needs with an important energy availability, the hybrid solar system including a generating set or a wind-power generator, offers the complete autonomous solution. When the weather condition is not good (sunless weather) the wind-power generator or the generating set (as a back-up system) takes in charge the energy production.
Power supply connected to the public electric network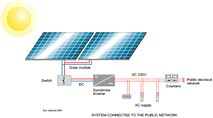 To produce ones own electric energy in addition to the energy supplied from the public network in order to cut down the energy consumption, the system working synchronously with the public electric network offers an optimum solution. Without batteries, the network is used to supply energy in the night. Optionally we also supply the Back-up version which enables to have energy whenever the public network energy supply is off.
Solar pumping systems
For deep well boring, especially in isolated areas, the solar pumping system offers a better solution as compared to other energy pumping systems. The operating starts automatically with the sunrise. Here the energy is not stored but rather the water. Sometimes a wind-power generator in addition to the solar generator is sufficient to increase the output of the system.

Our technical service is always at your disposal.